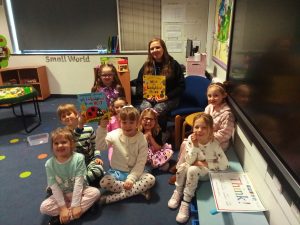 On 3rd March we celebrated World Book Day. It was a brilliant day. The children have shared their favourite books, learnt about the Children's Laureate, Joseph Coelho, and done some incredible writing, reading and artwork.  At the end of the day, the children moved around the school and chose a book they would love to hear read from a different teacher.
Here are two peoms written by some of our children, in the style of Joseph Coelho, on World Book Day
What I Like to Eat
A little bit of poppadom,
a little bit of pringles crunching  while  I mingle.
A little bit of lollies and a little bot of spice, tingling  in my mouth while  I catch mice.
A little bit of plum and a little bit of cream
swirling in my mouth in my dream.
A little bit of  bourbon, a little bit of hot chocolate `hot` ` hot` 1 sip and I am done .
A little bit of apple, a little bit of  watermelon
`yum`   ` yum`  in my tum
Marnie.M and Summer.K
Hopefully that's enough for me
A little bit of ice cream, a little bit of jelly,
hopefully it all fits in my belly,
A little bit of nacho, a little bit of cheese ,
hopefully that's enough for me,
A little bit of pizza a little bit of chicken
I will eat it like I I'm wild,
A little bit of chocolate ,a little bit of cookie,
hopefully it doesn't taste yucky,
A little bit of cake a little bit of custard,
if mum walks in I'll be busted
Max